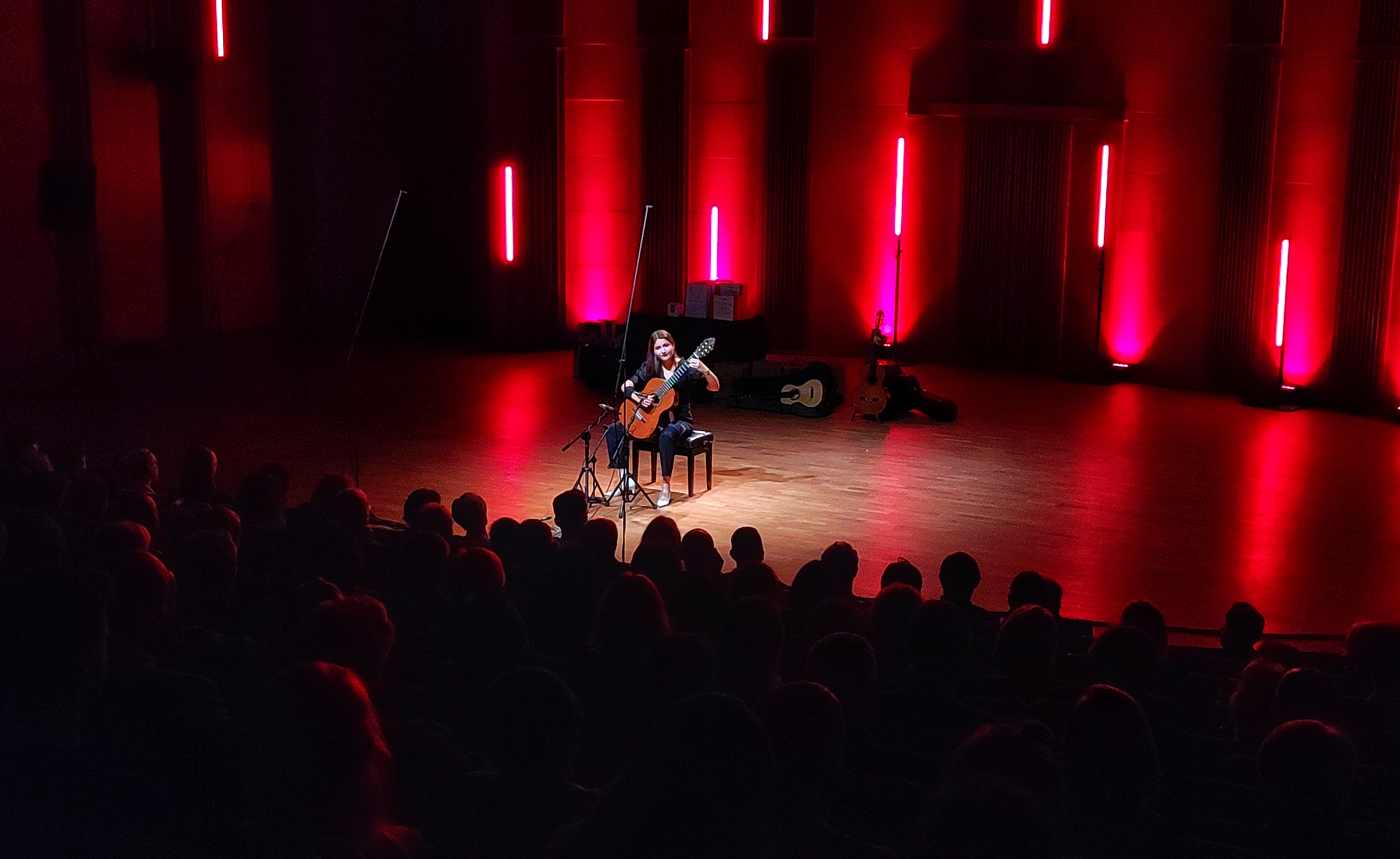 We have just met the winners of Jan Edmund Jurkowski International Guitar Competition held as part of the 18th Silesian Guitar Autumn 2022 in Tychy!
By the decision of the jury this year's winner is Cassie Martin from France
The winner of the first prize received:
– a financial award of EUR 5.000
– a Fryderyk Firla romantic guitar worth 15000 PLN
recitals at guitar festivals in the following cities:
Balatonfüred 2023 (Hungary), Bratislava 2023 (Slovakia), Kutná Hora 2024 (Czech Republic), Krynica-Zdrój 2022 (Poland), Olsztyn 2023 (Poland), Tychy 2024 (Poland)
– a recital funded by the Karol Szymanowski Academy of Music in Katowice
The winner of the second prize is Andrzej Grygier from Poland, who received:
– a financial award of EUR 2.500
The winner of the third prize is Hugo Moltó Medina from Spain who received:
– a financial award of EUR 1.000
In addition, special prizes were awarded:
– a special prize for the best Polish participant – a Martinez guitar funded by Interton Classic – Andrzej Grygier
– a special prize for the best Sonata performance in the 2. round of the competition- a guitar case worth 1270 Euro funded by CCCases – Cristina Galietto.
– a special prize given by the children from Music School in Tychy – Cassie Martin
Other special prizes:
– three "the2Mic" microphone kits funded by the2Mic™ & Parent Company Donnell's MiniFlex Headquarters – Andrzej Grygier, Oktavia Bujnowicz i Marcin Kuźniar
an Alhambra "Carbon de fibra" guitar case worth 2600 PLN funded by ADA-MUSIC company from Czechowice-Dziedzice – for the youngest participants – Oktavia Bujnowicz
– a concert funded by the ARCHETTI Chamber Orchestra
– a concert funded by Katowice the City of Gardens in Katowice
The winners also received in-kind prizes funded by:
– D'Addario
– Quena Music Shop / luthier guitars
– König & Meyer
– Seis Cordas Music Publishing House
– Cicadis Publishing House
We would like to thank all the participants. We are happy that we were able to meet the 24 of them personally, and we congratulate the final six on their performance with AUKSO Chamber Orchestra of the City of Tychy.
We also hope that in two years we will meet you again here, in Tychy, as the participants of our competition, its winners, or winners of partner competitions.
Congratulations to the winners!