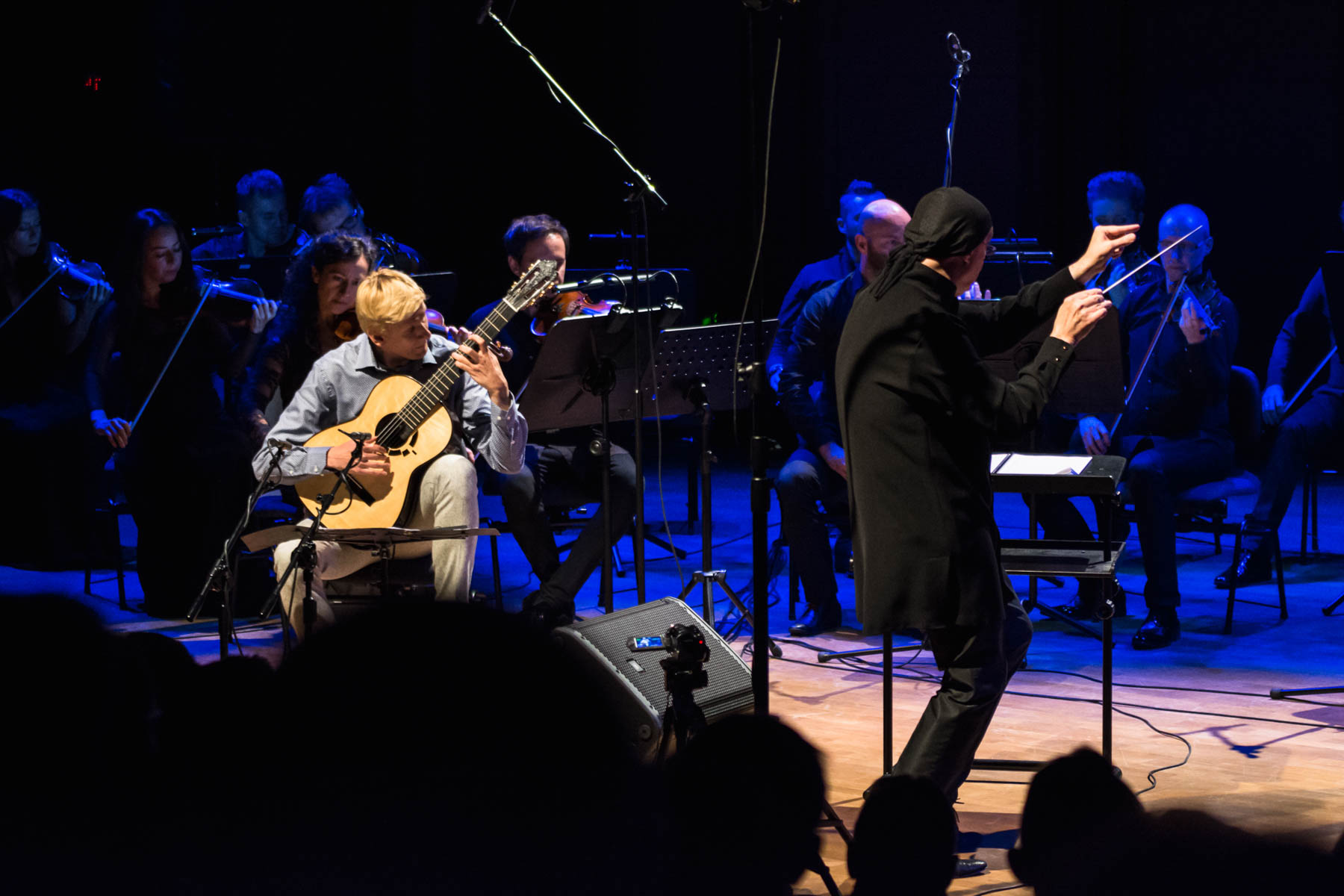 The Tychy premieres
One of the many traditions of the Tychy guitar festival is the highly anticipated festive evening, during which a new composition is premiered – a concerto for guitar and orchestra. Since 1988, due to the efforts of the festival directors, the catalogue of Polish music has expanded by several positions of this musical form. The works by prominent Polish artists should be mentioned, such as Czesław Grabowski ("Silesian Concerto"), Edward Bogusławski ("Concerto"), Marek Pasieczny ("Motion Picture Score Concerto", "Go-Dai Concerto", "Concerto for Guitar and String Orchestra" [Tribute to Wojciech Kilar]), Marcin Błażewicz ("Concerto for Guitar and String Orchestra"), Mikołaj Piotr Górecki ("Arioso e Furioso op. 39") or Aleksander Nowak ("Concerto for Guitar in Peculiar Tuning and Chamber Orchestra").
It should also be added that from 1993 to 2001, five editions of Ogólnopolski Konkurs Kompozycji na Gitarę Klasyczną (National Composition Competition for Classical Guitar) were held. The event alternated with the Silesian Guitar Autumn, and the winning composition was then performed during the festival in the second round of the J. E. Jurkowski International Guitar Competition. The winners of this competition were, among others: Jerzy Bauer, Olga Hans, Bartłomiej Budzyński, and Zdzisław Szostak.
This year, during the Wednesday evening concert at Mediateka in Tychy (26th October 2022), three premieres will be performed: "Concerto eufonico na gitarę amplifikowaną i trzy grupy smyczkowe amplifikowane" (Concerto Eufonico for Amplified Guitar and Three Amplified String Groups) – the premiere of the new version of "Sinfonia Concertante," which premiered at the 10th Silesian Guitar Autumn, "Concerto for Guitar and String Orchestra" by Thierry Escaich (Polish premiere), and "The Beatz Concerto for Guitar and String Orchestra" by Leon Firšt (Polish premiere).
The four-part "Concerto Eufonico" by Silesian composer Aleksander Lasoń, belonging to the so-called Generation '51, is a composition full of tensions, rich in elements of virtuosity and theatricality. It is not lacking either harshness or scrape, as well as moments of silence full of energy and emotions. The performer of the solo part will be Marek Nosal, which is another tradition in the case of concertos by Polish composers. Both him and all the other soloists of this evening, will be accompanied by the AUKSO Chamber Orchestra of the City of Tychy conducted by maestro Marek Moś.
"The Concerto for Guitar and String Orchestra" by French organist and composer Thierry Escaich is, as the composer himself describes it, a combination of underground music of great metropolises (Street Art) and a pop-jazz ballad. The piece is Escaich's first composition for guitar and was commissioned by Jérémy Jouve. The concerto premiered at the Guitare en Alpes festival in January 2022. Music full of contrasts combined with the enthusiastic performance of a well-known musician, the winner of the J. E. Jurkowski Memorial Guitar Competition in 2002, will certainly be an unforgettable experience.
The 28-year-old composer of the third concerto, which will be performed this year in Tychy, Leon Firšt, has so far written more than 70 works intended for symphony orchestras, as well as chamber and solo works. In addition, he is an author of film and theatre music, and his musical "Veronika Deseniška" quickly gained extraordinary popularity in Slovenia. His pedagogical compositions are mandatory at many competitions. "The Beatz Concerto" written for Mak Grgić premiered in July this year. The four-part series features meditative passages, atmospheric "soundscapes", which leave room for the soloist's almost improvisational playing, as well as expressive, rhythmic fragments, which draw from jazz or even rock music.
The Wednesday concert will certainly remain in the memory of the audience for many days, or even longer, after this year's edition of the festival has come to an end. You can't miss it, either. You are warmly invited to attend.
J. Jouve/M. Grgić / M. Nosal / AUKSO / dir. Marek Moś
Mediateka in Tychy, 26th October 2022, at 6:30 pm