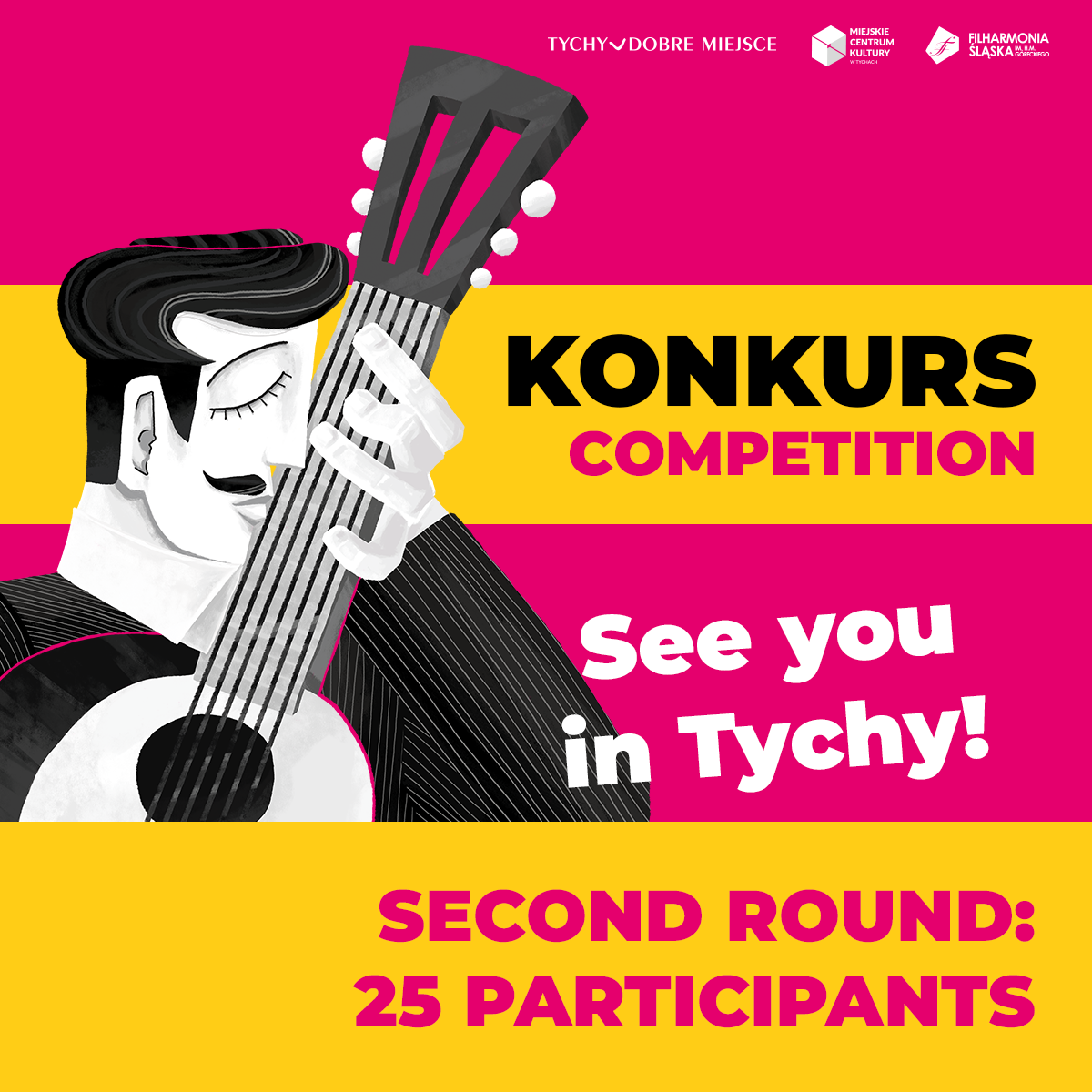 II ROUND OF THE COMPETITION – 25 participants!
We know the participants of the Second Round of Jan Edmund Jurkowski Memorial Guitar Competition of the 18th Silesian Guitar Autumn!
The Jury consisting of:
Marcin Dylla – the president, Beata Będkowska-Huang, József Eötvös, Martin Krajčo, Thomas Offermann and Petr Saidl, announces that the following artists have qualified for the stage of the live auditions in @Zespół Szkół Muzycznych w Tychach – The Music School in Tychy (in the order of performances determined by lot on the day of the contest, 19 September 2022, starting alphabetical from letter "B" of the name of participants):
Bujnowicz Oktavia (Poland)
Cába Martin (Czech Republic)
Dworniczak Kacper (Poland)
Egholm Jonas (Denmark)
Filipović Pavle (Serbia)
Galietto Cristina (Italy)
Grygier Andrzej (Poland)
Kuźniar Marcin (Poland)
Majek Rafał (Poland)
Markowski Jan (Poland)
Martin Cassie (France)
Mihailescu Bogdan (Romania)
Moltó Medina Hugo (Spain)
Moroziński Jakub (Poland))
Nagy Márton (Hungary)
Piperno Marco (Italy)
Pompilio Antonio (Italy)
Provenzi Samuele (Italy)
Radziszewski Tomasz (Poland)
Rysiecki Wojciech (Poland)
Saito Yuki (Japan)
Szalai Lotti (Hungary)
Szalaty Bianka (Poland)
Toscano Román Álvaro (Spain)
Vinour Timothée (France)
Qualification for participation in the Second Round with the exemption from participation in the Preliminary Round is granted to:
The winner of the first prize in the second age group of the 20th International Czesław Droździewicz Guitar Competition in Krynica-Zdrój in 2020;
The winner of the Baltic Guitar Days International Guitar Competition in Szczecin in 2021;
The winner of the first prize in the second age group of the Joaquin Rodrigo International Guitar Competition in Olsztyn in 2021.
In the Second Round of the Competition in Tychy, the participants will present:
–
A sonata originally composed for the guitar in the 20th or 21st century.
Duration: 30-35 minutes.
We encourage you to follow the information about the competition and to attend the auditions between 25th and 27th October 2022, starting at 10:00 am.